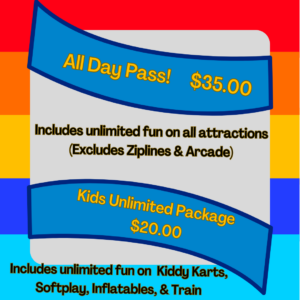 SPRING BREAK HOURS
Open April 1st through April 9th 11:30am-7:00pm sundays 12pm-6:00pm Weather permitting!
WEEKENDS ONLY
"weather permitting"
Saturdays opens at 11:30
Sundays opens at 12:00pm
Starting May 19th open 7 days a week!
 (weather permitting. Hours may vary please call ahead)
Get directions to our location in Gilbertsville, Ky.
View our hours of operation.
Affordable Family Fun!
Great way to get out and have some fun with the whole family!
Company Outings!
Plan your next Company outing with Kentucky Shores that will have everyone talking for months!
New FOOD Menu
Enjoy great tasting food and Linda Lambs Popular Sweet Treats!
"Always have a great time here with the family. Our favorite thing to do here is ride the go-carts. I added a picture of my son and his father riding the go-carts today for memorial day. They had a blast!"
"NEW OWNERS!! This place was tired and needed a lot of TLC!!! The new owners have came in and COMPLETLEY turned this place around. It has a brand new arcade with new state of the art games and its been completely renovated. The go kart track has been freshened up and so have the karts to look like new! New buildings, new attractions including stuff for younger kids to play on age group 0-10. The best part is the place looks cared for again and it's clean with more things to do and great food! You gotta check this place out!!!!!"
I was really impressed with what the owners have accomplished with this space. There is much more fun and activities to do than meets the eye when passing by. The arcade is retro cool and still oddly relevant. The place seems to be expanding. Stop in and check it out. These are the type of places that make Americas highways really cool. Its contemporary Americana! I think its great - my kid and her friends loved it, too.
My best friend and I just got back from visiting Kentucky Shores Family Fun Center with our Grand daughters...We all had the best time, it was so nice to actually play along with the girls and have as much fun as they did!! The staff is absolutely wonderful and want you to have a great time :0). We are going to make this an annual trip with the grandkids....Wonderful Fine !!!!!
Super friendly and accommodating staff. Kids had a great time spending the day here. We purchased the bracelet which allowed them to pick and choose their favorite activities at a discount. I enjoyed watching them laugh and smile the entire day. The kids also loved the arcade and enjoyed pizza, popcorn, and Dippin Dots for lunch. We will definitely return.
We had a large group and the staff went above and beyond. We had a great day and will definitely be back.
So enjoyable and clean! You can sure tell the owners take extra great care of the place!!